World
Year in review: RT to talk global politics & challenges with Russia's FM Lavrov
As 2017 nears its end, RT plans a sit down with FM Sergey Lavrov to unpack the issues that shaped the geopolitical landscape, including the Syrian and Yemen conflicts, the Korean crisis and the rift between the US and Russia.
Apart from the ongoing world crises and military conflicts, RT also plans to quiz Russia's top diplomat on the dispute between Moscow and Washington which has further intensified this year. Discussing Russia's future role on the world stage in an ever changing geopolitical climate is also on the agenda.
Lavrov has long been deployed at the heart of international politics and knows the issues and undercurrents firsthand. Being one of the diplomats spearheading efforts to peacefully resolve the crisis around North Korea's nuclear and missile programs, Lavrov has repeatedly cautioned Washington against any reckless moves, warning, that any potential US military action against Pyongyang would be "a huge mistake."
Read more
He said most recently, that Moscow is ready to help in facilitating direct talks between Pyongyang and Washington that could reduce the spectre of war in the region. "We know that, above all, North Korea wants to talk to the US about its own security assurances," Lavrov said early December, following a meeting with his US counterpart Rex Tillerson.
The minister also works closely with many international actors to advance the peace process in Syria. In early December, he discussed the situation in the Middle Eastern country with the UN special envoy to Syria, Staffan de Mistura. Lavrov said Russian initiatives in Syria, including the de-escalation zones, are now aimed at promoting "pragmatic contacts" between the opposition, local leaders and the Syrian government, which could lay the foundation for an all-inclusive national dialogue.
The Russian diplomat has also called for the lifting of sanctions imposed on Syria by some western states. He pointed out that these punitive measures negatively affect ordinary Syrians in the first place, and urged the international community to intensify its efforts to provide humanitarian aid to all Syrian regions without any bias or "politicization."
Read more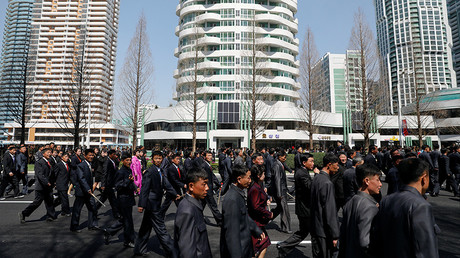 Washington's relations with Moscow plunged to new lows in 2017, amid unsubstantiated accusations it somehow interfered in the US elections. Ahead ahead of the forthcoming presidential poll in Russia, Lavrov drew attention to the US' own interference in Russia's political process'. The minister particularly noted that in mid-December, US diplomats openly participated in various opposition rallies. Lavrov emphasized that any US efforts aimed at influencing the upcoming vote would be futile, since, and just as in the US, the "people would decide" ultimately, and would not be swayed by some foreign actors or actions.
But despite the reality that bilateral relations remain tense and frosty, Lavrov is not giving up on dialogue, with Moscow, according to his deputy, continuing to engage US diplomats almost "every day."
Foreign Minister Sergey Lavrov will sit with RT for an exclusive interview on Monday, December 25. Tune in at 8am GMT to watch the conversation live, and get a firsthand account on global political developments from Russia's top diplomat.
The post Year in review: RT to talk global politics & challenges with Russia's FM Lavrov appeared first on News Wire Now.