Food
Raise a dram to Glasgow's second National Whisky Festival this Saturday
The National Whisky Festival is returning to Glasgow this weekend.
Run in partnership with Celtic Connections, this unique tasting festival blends the world of whisky with the best in Scottish culture: featuring makers of whisky-related crafts, home-ware and artwork, an impressive programme of live music and food from popular local haunts.
This will take place on Saturday, 20 January, at SWG3, 100 Eastvale Place, Glasgow, in two sessions. The first runs from noon-3.30pm, and the second form 4.15-7.45pm.
Featuring live music from Scott Hutchison of Frightened Rabbit, Croft No.5, The Friel Sisters, Talisk, Siobhan Miller and more.
This is the second year of the National Whisky Festival in Glasgow
Now in its second year, The National Whisky Festival continues to celebrate Scotland's national drink in a modern and inclusive fashion. Inviting and accessible to whisky lovers new and old alike, this lively, multi-faceted festival is a far cry from old-men-in-suits quietly quaffing in a members-only club; tutting at the thought of ice and mixer.
The festival's partnership with Celtic Connections, the largest winter festival in the world, allowed The National Whisky Festival to bring this inventive take on the world of whisky to Glasgow for the first time last year.
Attendees can sample more than 100 whiskies from the likes of Ardbeg, Bruichladdich, Glenmorangie, Eden Mill, Lagavulin, Talisker, Loch Lomond, Wemyss Malts, Benromach, Morrison + Mackay, Copper Dog, Islay Boys, Glasgow Distillery Company, Annandale, Finnieston Distillery, Clydeside Distillery, Frasier Liqeur, Paul John, Nikka, Yamazakura, Spey, Wolfburn, Douglas Laing, Jura and many more.
Delicious food from vendors such as Babu Bombay Street Kitchen (indian street food), Hen of the Woods (traditional Scottish / vegan) and The White Goose (pies) complement the huge range of whiskies. While sampling the whiskies, audiences can also enjoy a live music line up curated by Donald Shaw of Celtic Connections and Capercaillie including: Croft No.5, The Friel Sisters, Talisk. and more. There will also be whisky related artwork, glassware, books, non-alcoholic offerings, craft gin, rum, chocolate, coffee and more.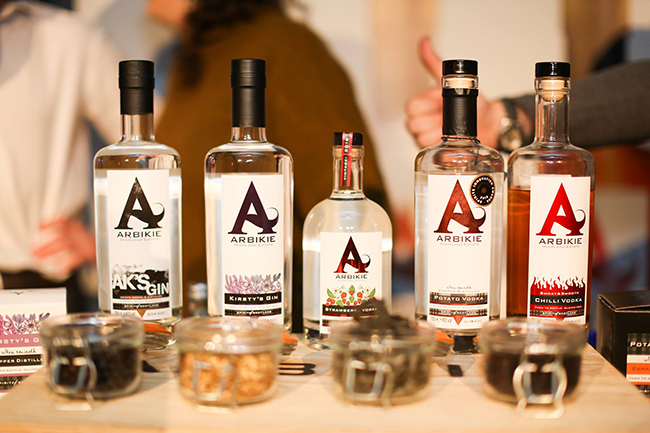 A variety of drams will be on offer
Colin Campbell, from the National Whisky Festival, said: 'We want to celebrate whisky, we don't just want to stand around chin-wagging, nodding, murmuring… It's a beautiful drink – it's many different drinks – so much can be done with it. We're not part of the NO ICE brigade. We want our attendees to enjoy it in whatever fashion makes them happy.
'Whisky is a firm part of Scottish culture: it inspires people to make all sorts of wonderful artwork, architecture, music, poetry… That's why we bring these things to our show. At what other whisky festival can you take a break between drams to dance to the beat of world-renowned musicians?'
The National Whisky Festival is Scotland's most exciting celebration of all things uisge-beatha. The National Whisky Festival brings together whisky distillers, blenders & bottlers from around the globe and marries them with the best in whisky-inspired culture.
In a unique partnership with Celtic Connections festival, NWF aims to entertain and unite whisky lovers both new and old. Established in 2016 by Brian Reynolds (Synergy Concerts), Colin Campbell (The Hug and Pint) and Donald Shaw (Celtic Connections) to promote whisky to new audiences and allow it to be enjoyed by all.
Whisky lovers will be enjoying their drams this weekend
Glasgow's annual folk, roots and world music festival, Celtic Connections celebrates Celtic music and its connections to cultures across the globe. Every January, over 2,000 musicians from around the world descend on Glasgow and bring the city to life for 18 days of concerts, ceilidhs, talks, art exhibitions, workshops, and free events. Celtic Connections is programmed by Artistic Director (and founding member of Celtic supergroup Capercaillie) Donald Shaw, and features more than 300 events across multiple genres of music.
Tickets can be booked via www.nationalwhiskyfestival.scot, in person at the Glasgow Royal Concert Hall or City Halls, or by calling 0141 353 8000.
Priced £40, the ticket price includes:
All samples are included in the ticket price. The festival doesn't operate a token purchase policy, or any hidden costs, though they do remind all attendees to please drink responsibly;
A commemorative Glencairn nosing glass + festival programme to take home;
A £5 off voucher for bottles purchased at the bottle shop ran by Good Spirits Co (it is also valid in the shop until December 31 this year if you don't purchase anything on the day – attendees just need to keep their voucher to take advantage of this);
Opportunity to watch the musical performances across both spaces.
For more details click HERE.