World
These are the Scottish wintersports you have to try this year
There's snow-where better than Scotland for some winter sport inspiration.
With the XXIII Winter Olympic and Paralympic Games currently underway, what better time is there to embrace the sub-zero temperatures and take part in some winter sports – even if it's just for fun. Scotland is the perfect place to indulge in some snow sports, whether it be skiing, snowboarding, curling or even leading a pack of sled dogs.
With our friends at VisitScotland, we bring you the best of Scottish wintersports.
Three skiers taking in the view from the top of the Goose T-bar at Nevis Range, with Loch Eil in the distance
Scotland's five ski resorts offer the best outdoor skiing and snowboarding in the UK. Surrounded by beautiful Highland and Aberdeenshire scenery, the country's ski centres are easily accessible from all of Scotland's cities and the north of England, and offer great opportunities for beginners and seasoned skiers or boarders alike.
Scotland's Ski Centres
CairnGorm Mountain has a reputation as one of the most beautiful and popular places to ski in the UK, as well as boasting Scotland's only funicular railway. Visitors will also find the highest restaurant in the UK at CairnGorm Mountain.
Glenshee, which takes its name from the Gaelic 'Glen of the Fairies', certainly offers one of the most magical skiing experiences in Scotland. The largest resort in the UK, it covers an area of more than 2,000 acres extending across four mountains and three valleys and boasting 21 lifts and tows.
Nevis Range offers skiing up to 1190 metres (3,900 feet) Nevis Range reaches high on to the mountain of Aonach Mor. The Nevis Range Mountain Gondola – the only of its kind in Britain, was built on Aonach Mor originally as a way to transport skiers to the slopes. The Gondola is also widely used as a short cut by climbers on their journey to the clouds.
The Lecht is situated in the stunning Eastern Cairngorms at 2,090 ft. above sea level, in the heart of the UK's largest National Park. The resort has grown from one ski tow to a year-round Highland activity centre with 20 maintained ski runs and 14 lifts.
Glencoe Mountain is situated in an area of outstanding natural beauty on the edge of the wild Rannoch Moor and offers stunning views of the iconic Buachaille Etive Mor. Glencoe is Scotland's oldest ski centre and has a reputation as being a great venue for the more experienced skier, though there are also plenty of options for beginners and intermediates too.
Children having fun at the Cairngorm Ski Resort
Ski Touring
This invigorating activity, which combines mountaineering and skiing skills, is a fantastic way to experience the untouched mountain backcountry of the Highlands. A few activity centres offer ski touring courses and guided tours in the majestic Cairngorms, including Glenmore Lodge and G2 Outdoor. Both of these operators are based near Aviemore in the Highlands, which can be reached from Glasgow by road in less than three hours.
Cross Country Skiing
Alongside downhill skiing, cross-country skiing on Scotland's snowy mountains is on offer for experienced and suitably equipped enthusiasts. Guided courses with Glenmore Lodge are a good way to get started. You'll also find Britain's only purpose-built, all-weather Nordic centre in the Aberdeenshire town of Huntly, which caters for all levels, from novice to elite. If snow conditions are good, high level trails in nearby Clashindarroch Forest are used. If not, then it's on to a 400 metre all-weather mat, or forget the snow and have some fun roller-skiing along an 800 metre tarmac track.
Alternatively, you could try:
Sled Dog Safari
You might be surprised to know that there is quite the sled dog racing scene in Scotland, with popular rallies taking place in the winter months – Aviemore is even home to a designated centre for the sport. You can meet these hardworking canines at the kennels and sled dog museum or book a sled dog safari, training session or course with the Cairngorm Sleddog Centre.
Curling
Curling is on the list of the many great things that the Scots have invented, and when it comes to international curling competitions, our athletes have a tendency to do us proud. Play it for yourself and you will soon find that curling is a lot of fun! There are curling clubs at ice rinks across the country, from Dumfries in the south to Elgin in Moray Speyside. Sometimes, when a cold spell hits and lochs and ponds freeze over, curling is played outdoors.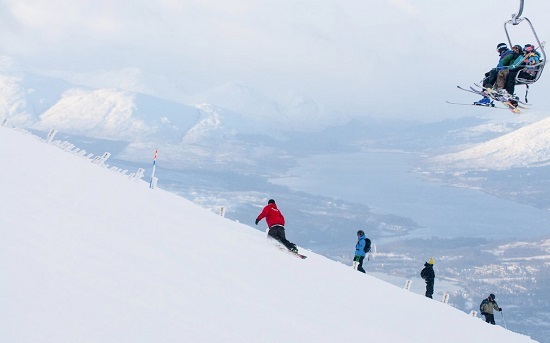 Skiers and boarders below the Quad Chair, at the Nevis Range
Snowshoeing
Strap on a pair of snowshoes, grab some poles and get walking across blankets of pure white snow. It's a magical way to explore snowy forest tracks and hillsides. Perthshire-based Mains of Taymouth organise snow shoeing trips or you could join C-N-Do Scotland on a guided expedition – their trips range from half day taster sessions in Callander in the Trossachs to two day excursions in the northern Cairngorms, and they can provide the equipment too.
Skating and Ice Hockey
There are over 20 rinks spread across Scotland offering all sorts of fun on ice. Some specialise in curling, whilst others also offer skating and ice hockey. Ice fans can have a go or spectate at an exciting ice-hockey match.
Biathlon
Another fascinating and challenging Olympic winter sport you can try in Scotland, which combines the endurance athleticism of cross-country skiing, with the skill and millimetre precision of rifle shooting, is biathlon. Courses, led by former six-time Olympian biathlete Mike Dixon, are available at Glenmore Lodge.
For more information on winter sports in Scotland, click HERE.
READ MORE NEWS FROM SCOTTISH FIELD BY CLICKING HERE.