World
Russia Saratov crash: Investigators comb crash site near Moscow
Hundreds of Russian investigators are searching snow-covered fields near Moscow, where a passenger jet crashed killing all 71 people on board.
The 65 passengers and six crew died when the Saratov Airlines jet went down minutes after take-off from Moscow's Domodedovo airport on Sunday.
Bad weather, human error or technical failure are seen as possible causes.
Officials do not see terrorism as a likely cause.
According to Russia's Investigative Committee, "when the plane crashed it was intact, there was no fire, and the explosion happened on impact".
Earlier some eyewitnesses had reported seeing the jet ablaze as it plummeted.
This is the first commercial passenger jet crash for more than a year.
The Antonov An-148 was en route to Orsk in the Ural mountains.
It crashed near the village of Argunovo, about 80km (50 miles) south-east of Moscow. Wreckage and body parts are strewn over a large area – about 30 hectares (74 acres).
More than 700 people are involved in the search operation, struggling through deep snow, but aided by snowmobiles and nine drones.
Who are the victims?
Russia's health minister said recovery of all of the victims' remains could take up to a week. So far more than 200 body fragments have been recovered.
The emergencies ministry is collecting DNA samples from victims' relatives – specialists have flown to Orsk to do that.
The official list of passengers and crew has been published (in Russian) by the ministry.
A child and two teenagers were among the passengers, most of whom were from the Orenburg region where Orsk is located.
The list is still being updated. Among those killed was a man from Switzerland and another from Azerbaijan.
At least 11 passengers were living in or near Moscow. Three were from the St Petersburg area.
At least eight passengers were from other parts of Russia, and four of the crew were from Saratov.
Details of some of the victims have emerged. They include Darya Tolmasova, 22, who was the girlfriend of an ice hockey player – Sergei Ilyin, of the Admiral team. Tributes to her were posted on Instagram.
President Vladimir Putin has expressed his condolences to the victims' families. Both the US and the UK governments said they were "deeply saddened" by the tragedy.
This is the first commercial passenger jet crash for more than a year – 2017 was the safest year on record for air travel.
What do we know so far about what happened?
The plane took off at 14:27 (11:27 GMT) on Sunday. Contact was lost minutes later.
Flight-tracking site Flightradar24 said it then descended at the rate of 1,000m (3,300ft) per minute.
No emergency call came from the plane, which was reportedly seven years old.
The jet was being flown by an experienced pilot who had 5,000 hours of flight time, the airline told Ria-Novosti news agency.
A criminal inquiry has been launched for "violation of the rules for the operation of air transport".
On Monday, emergency workers confirmed they had recovered the jet's second flight recorder.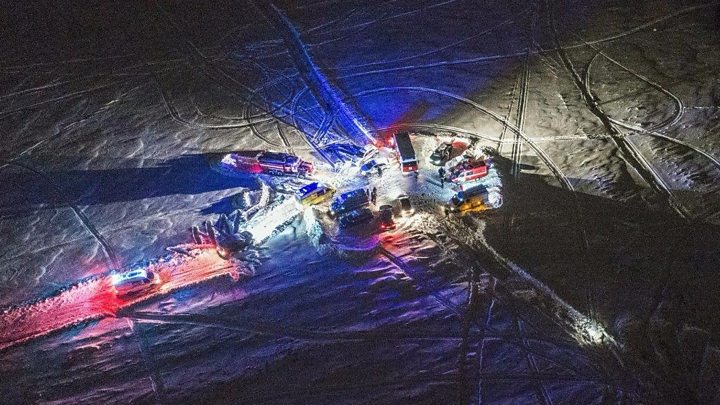 What do we know about Saratov Airlines?
In 2015 the regional airline was banned from operating international flights, after inspectors found someone other than the flight crew in a cockpit.
The airline appealed and changed its policy before resuming international charter flights in 2016.
Antonov aircraft were first developed in Ukraine, but are also made in Russia. The twin-engine model involved in Sunday's crash had its first flight in 2004.
In 2011, one broke up mid-flight during a training flight in the Belgorod region in southern Russia, killing all six crew members on board.
Recent Russian air disasters
The country has suffered two major plane crashes since 2015: