By Rachael Taylor, JFW
On a miserable, rainy day in Paris, some of the world's most elite jewellery maisons unveiled collections distracting enough to make you forget the weather outside. From skeletons in the closet to Siberian winters and the pride of lions, each collection drew on remarkably different inspirations, but what united them was the sheer magnificence and skill of these heritage Parisian jewellers.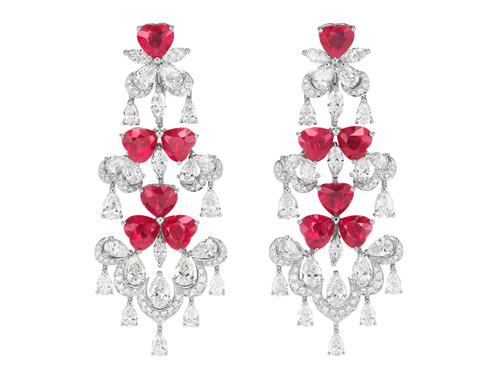 At Chanel, designers once again returned to the lion, a motif loved by Coco Chanel, who herself was a leo. Rather than replicate a star sign, this new incantation of the king of beasts paid homage to the personality of the lion itself. Jewels were decorated with a lion's head – the expression of which took craftsmen six months to perfect – studded with diamonds or carved from warm yellow beryl, chosen for its semblance to a mane. The other key motif in this collection was tough lengths of curb-link chain (or at least the appearance of chains), further demonstrating that this is a tough, regal, proud and brave collection for women of the same caliber.
Chopard and Dauphin took a more softly-softly approach with their new high jewellery collections. Chopard presented red carpet-ready extensions to its classic Precious Chopard line that made diamonds, rubies, emeralds and tanzanites the star, set in lattices of precious metal settings that were soft as silk. On the opposite side of Place Vendôme, Dauphin presented its Fluid Captured collection, with soft mesh-like patchworks of diamonds swinging freely from chunky open rings, with brown diamonds set in rose gold for a warm look.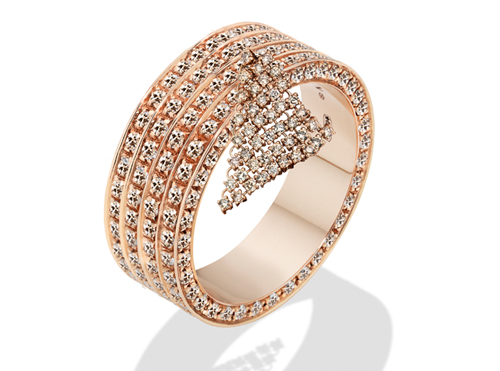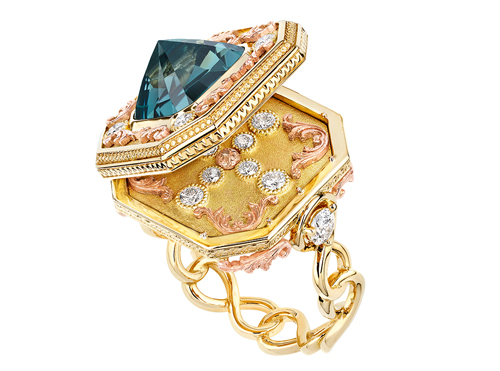 Dior took us back to the regal Palace of Versailles for its third and final high jewellery collection dedicated to the historic royal hang out, Dior à Versailles, Pièces Secrètes. This time, designer Victoire de Castellane focused on the skeletons in the closet, translating this to jewellery with rings hiding secret compartments and pendants with hinged semi-transparent gemstones that could be swiped to the side to reveal intricate engravings obscured beneath. Skulls were also prominent, either carved into gems or created using Monet-like dabs of black diamonds.
At Chaumet, we fell even farther into winter as a faux snow woodland led us to new collection Les Mondes de Chaumet – Promenades Impériales, inspired by the beauty of Siberian winters. The classic high jewellery collection, complete with tiaras, was mostly white diamonds, though flashes of colour interjected as the jeweller used Padparadascha sapphires to evoke sunrise and sunset, and strong blue Ceylon sapphires to capture the sharp azure winter sky.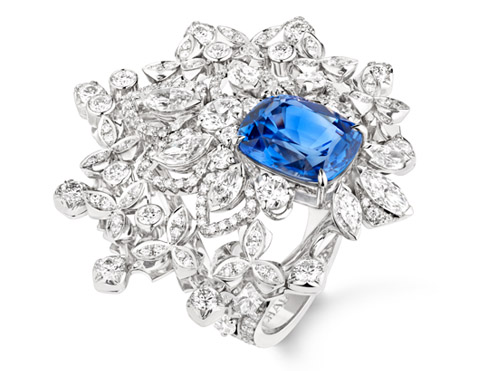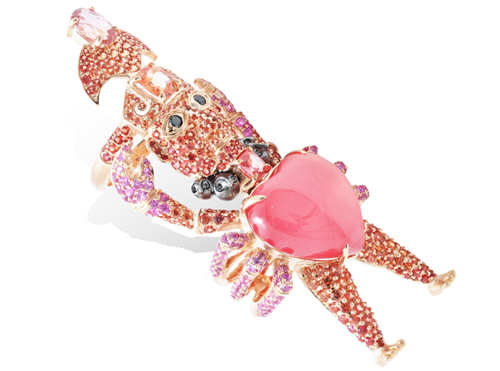 Jetting us off to more exotic climes, Lydia Courteille offered up an explosion of pink with her new Rosa del Inca collection that was inspired by a trip the designer took to Argentina. The design DNA references Aztec and Inca art and folklore, while its bright pink palate is thanks in large to the use of local gem rhodochrosite. For an extra shot of pink, pink sapphires, spinels and rubies were thrown into the mix. Even more colour was to be found in The Ritz, where interloper Swiss jeweller Suzanne Syz presented new designs using her signature metal of choice, aluminium. This metal, in bright reds, purples, greens and blues, was used to create avant-garde statement earrings, set with twinkling diamonds.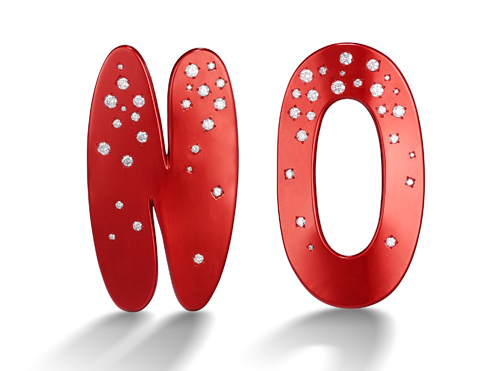 And if all this newness was not enough, round the corner at the Monnaie de Paris museum, Boucheron was holding a retrospective to celebrate its 160th anniversary. Augmented reality brought famous Boucheron cat Vladimir back to life, who showed us round the exhibits, which included some spectacular high jewellery pieces as well as documents from the archives and an interactive virtual jeweller's bench.
The post High jewels high jinks in Paris appeared first on JFW MAGAZINE.