World
Iconic Scots given a makeover as part of celebration
Scottish icons have been given a major makeover, to celebrate the strength and depth of the country's creative and textile sector.
Creative Legends, the first event inspired by VisitScotland Business Events' campaign Legends, revealed 12 outfits created by up-and-coming fashion designers from Edinburgh College, in collaboration with Edinburgh-based Stewart Christie & Co – Scotland's oldest bespoke tailor.
Among those featured were Robert Burns, William Wallace, Sir Arthur Conan Doyle and Flora MacDonald, who recreated in new garments displayed at the Scottish National Portrait Gallery in Edinburgh.
Julia Spencer as Flora MacDonald
The famous figures were chosen to reflect Scotland's achievements in areas such as education, arts, literature, medicine and politics.
The exclusive invitation-only event, which also raised funds for Maggie's cancer caring centres, heard from speakers in the creative, education and business sectors. Footage from the event and a case study will feature in next month's Creative theme in the Legends campaign.
The digital campaign – the first of its kind – showcases Scotland's legacy of invention, research and knowledge through its current experts and influencers, to the associations and wider Meetings, Incentives, Conferences and Exhibitions (MICE) market, in a bid to encourage more organisations to choose Scotland to stage business events.
Launched in November, the two-year campaign uses the hashtag #ideasbecomelegend and focuses on a specific theme every two months, sharing original content, including blogs and video podcasts from leaders in their field. Past themes focused on Technology and Education.
Fiona MacKinnon, assistant business events manager at VisitScotland, said: 'It seems appropriate that just as Scotland has a proud legacy of innovation, the creative sector takes such an innovative approach to highlighting the country's achievements in arts, science and politics through some of its most prominent figures.
'Legends provides a strong platform for the industry and demonstrates the importance of business events to innovation, research and Scottish tourism.
'We were delighted to collaborate with Stewart Christie & Co and the other partners in producing Creative Legends, celebrating our heritage in such a unique way whilst giving the next generation of designers a chance to shine.'
Kyle Jamieson as William Wallace
Vixy Rae, creative director of Stewart Christie & Co, added: 'It has been such a wonderful opportunity to bring together so many creative ideas and so many talented individuals for this special evening with VisitScotland.
'We are celebrating both the heritage of craftsmanship, and the innovation of creative talent from Stewart Christie and from the Edinburgh College.
'The collaboration with the Edinburgh College has been something which Stewart Christie are extremely proud to be involved in. We realise there needs to be support from the business sector to inspire young people in their studies. We feel it is important to have their work recognised and appreciated from an outside perspective too.
'The Creative Legends event brings together so many different aspects of tailoring and garment making, giving a historical reference point to all the ideas and mixing them with a modern twist.
'Having William Grant & Sons sponsor the event brings an extra dimension to the evening, stimulating the real wealth of Scottish heritage and taste.'
Michael MacLean as Robert Burns
Neil Manning, curriculum manager for Art and Design at Edinburgh College, said: 'Our students thrive when they're given the opportunity to create and test their skills in the real world, and this is so crucial in preparing them to become the next generation of professionals.
'This project has been exceptional, connecting the historical expertise from Stewart Christie & Co. with the creative new blood at Edinburgh College. Working with a traditional bespoke tailor has really challenged our students and they've all developed their skills and knowledge enormously.
'The link to some of Scotland's great figures has also been a great way to spark their creativity and they've come up with some stunning designs they should be very proud of.'
Laura Lee, Maggie's chief executive, said: 'Everyone at Maggie's is proud of our Scottish heritage, and as Scotland has produced a huge number of innovators and inventors I feel it is right that Maggie's, an organisation that has pioneered a different kind of cancer support, is honoured amongst them in such a creative way.
'From our first Centre in Edinburgh we have grown into a network of 22 cancer centres including eight in Scotland, where thousands of people visit every year to make the most of our essential support at what is possibly the hardest time of their lives.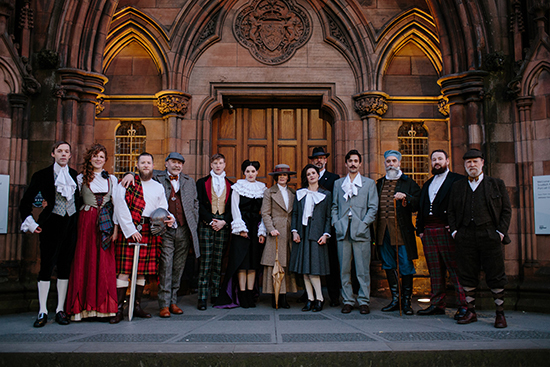 Legends at Creative Legends
'Support which we provide through the generosity of voluntary donations so we are also incredibly grateful to have been selected as beneficiaries of the special event at the Scottish National Portrait Gallery.'
Neil Barker, managing director of William Grant & Sons UK, said: 'We are passionate about celebrating and supporting the independent spirit of those who match William Grant's experimental and ambitious creativity, so we couldn't be prouder to sponsor the Creative Legends event.
'Everyone at William Grant & Sons, which remains family-owned to this day, continues to be inspired by William Grant's vision to make the "best dram in the valley". 130 years later, his vision and legacy to drive progress the right way, without any shortcuts, continues to motivate us all. William would have been honoured to be part of this event, shoulder to shoulder with Scotland's greats.'
Event partners were VisitScotland, Stewart Christie & Co, The Incorporation of Edinburgh Tailors, Edinburgh College, William Grant & Sons UK and Maggie's.
The full list of Scottish icons recreated by Creative Events were: Robert Burns; Sir Walter Scott; William Wallace; Andrew Carnegie; Arthur Conan Doyle; Charlies Rennie Mackintosh; William Grant; Tam O'Shanter; Flora MacDonald; Elsie Ingles; Mary Queen of Scots; Maggie's.