World
More and more films are looking to Bond with Scotland
Record enquiries are being received about filming in Scottish Highlands.
Last week saw the Highland Council's film unit receive its 200th enquiry of the year – a new record that illustrates the level of appeal the area now has as a location for everything from high end movies to online commercials.
Enquiries are already 19% ahead of the previous financial year, even before what is traditionally the busiest period of production development in March.
Daniel Craig starred as James Bond in Skyfall, partly shot in the Highlands
On average, around a third of enquiries convert into actual shoots but this year over 40% have already commenced or concluded their production in Highland.
This level of interest matches that from the 2008-2011 period which saw big name features such as Harry Potter and the Deathly Hallows, Skyfall, The Dark Knight Rises, and Prometheus all filmed in Highland.
As well as feature films including Edie, Mary Queen of Scots and Outlaw King being released in 2018, the Council's film unit has welcomed a range of projects that showcase travel and cuisine such as Coastal Railways with Julie Walters (UK) and Delicious Destinations (USA). As well as content reaching international audiences, incoming projects have come from as far afield as Brazil, South Africa and the USA, covering a range of genres and project types.
On location in the Highlands
Amy Morement, location manager for LS Productions said: 'Shooting in the Highlands not only offers dramatic, classic Scottish landscapes but also the most unique and varied locations.
'All of the local communities we have worked in have been incredibly receptive to filming and any visiting teams are left with a positive experience of filming in Scotland, from highly skilled local crew and brilliant Scottish-based facilities companies to high-end accommodation and a breadth of locations you would often struggle to believe are in the UK, not to mention unforgettable memories!
'The film office also offers an invaluable service, offering in-depth local knowledge and support to make our shoots happen.'
Emma Watson in Harry Potter and the Deathly Hallows, shot in Scotland
Film and television productions and increasingly shoots for newer media including online and gaming are a significant contributor to the Highland economy. During a shoot local businesses commonly benefit from cast and crew use of services such as accommodation, catering, vehicle hire as well as employing local people in film specific roles.
Those shoots that use the services of the council's film unit to find local locations or services bring an estimated £2-£4m per year depending on the types and range of productions in a given year. Even long after a shoot, the area continues to benefit from visitors attracted by movies filmed in Highland – research by VisitScotland showing that in key markets as many as 16% of visitors were influenced to visit after seeing Scotland on screen.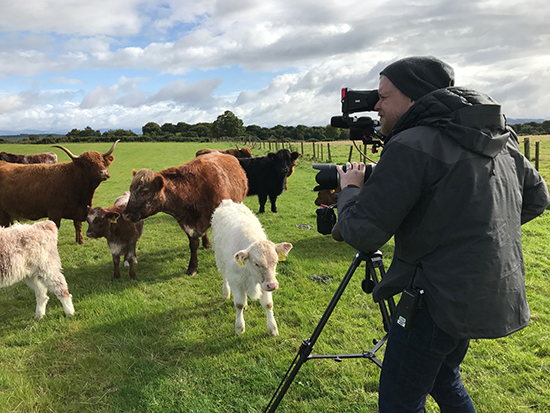 Filming in the Highlands
Councillor Allan Henderson, chair of the Highland Council's Environment, Development and Infrastructure Committee said: 'The Highlands has a great history of being used as a movie location so it's great news that we are seeing an increase in interest from all kinds of production companies from block-buster moviemakers to newer media outlets.
'Set-jetting is a growing trend, with research showing that visitors to the UK are inspired to come here after seeing a location on film or on television. Over the coming year we look forward to welcoming film makers and I also encourage people to visit the Highlands to enjoy and experience our fantastic scenery they have seeing on screen as it is even more impressive in real life!'