Women
Duchess of Cambridge Kate Middleton is in labour with the third royal baby
Get ready to pop the champers open tonight as Royal baby number three is on the way! Reports are emerging that Kate, Duchess of Cambridge, has gone to hospital and is in the early stages of labour.
The 36-year- old has been admitted to the Lindo Wing of St Marys Hospital in Paddington, central London – the same hospital where she gave birth to Prince George and Princess Charlotte – and no doubt, Prince William is by her side.
The couple announced they were expecting baby number three last September.
Unfortunately, like her two previous pregnancies, they had to go public with the news before she had reached the 12-week stage because she was suffering from hyperemesis gravidarum, an extreme form of morning sickness.
In October, the palace said the baby was due in April. Her actual due date has never been confirmed and it is understood that the Duke and Duchess do not know the sex of the baby.
But the bookies are leaning towards another girl with the odds going in favour.
As for names, Alice, Arthur and Victoria had been the previous favourites for the couples baby.
But these were replaced by Mary, who shot in from 16/1 to as short as 3/1.
A common name amongst royals, Mary is one of the Queens middle names and also her grandmothers name. Alice is now 6/1 with Victoria 8/1 and Elizabeth 12/1.
Albert, Arthur and Fred or Frederick rate as the favourite boys names, all listed at 14/1 with William Hill.
Fans of the royal couple have been camping at St Marys since last week in anticipation of the newest HRH addition.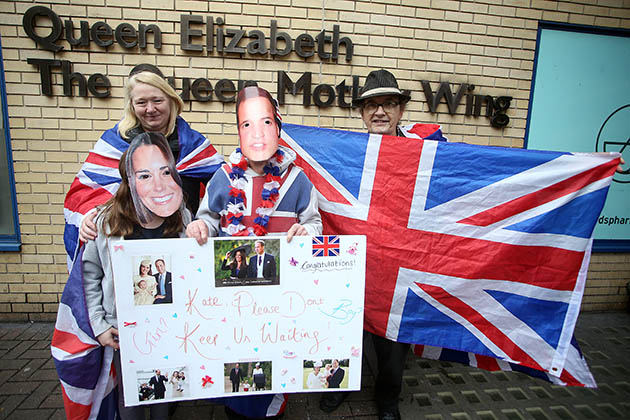 So, hopefully, all being well, we will be able to see the new little bundle either today or tomorrow.
Kate and Wills wont have to wait long for a day off from baby duties though, as Prince Harrys up coming nuptials to Meghan Markle are just around the corner.
Prince George and Princess Charlottes uncle is saying his I dos on 19 May in Windsor.
The post Duchess of Cambridge Kate Middleton is in labour with the third royal baby appeared first on Woman Magazine.