Women
Two can play at that game: Ruth Langsford teases Eamonn Holmes after he cosies up with Love Island star
Ruth Langsford has poked fun at her husband Eamonn Holmes after she saw him cosy up to Love Island star Laura Anderson.
The 58-year-old TV presenter, who has been married to the Irishman, 58, for eight years, couldnt wait to get her own back after she spotted him get cosy with a blonde reality TV star beauty.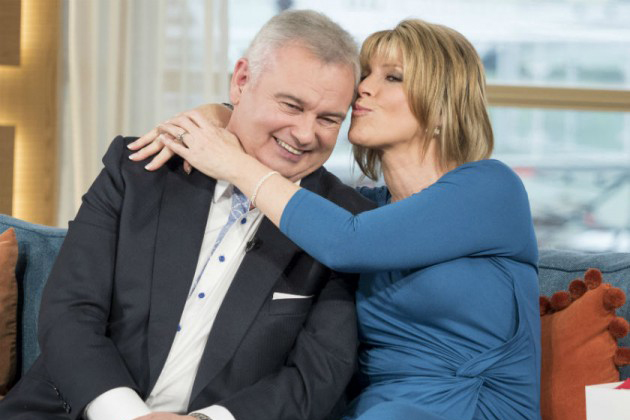 The pair had guests Laura and boyfriend Paul Knops, from this years Love Island. But while the pair are happily coupled up, Laura revealed in the villa of the ITV2 show how she had a soft spot for Eamonn.
And speaking to Woman Magazine on the red carpet at World Premiere of The Festival movie, held at Cineworld Leicester Square, Laura admitted shed love to present on the show.
She said, "I would absolutely love to present anything on the morning show, I think theyre all amazing. we felt so at home on This Morning. Eamonn and Ruth are so normal. I walked into the studio with no make up on, early, and Eamonn was like, Oh Laura, its meant to be…" before she revealed he admitted hed left his script in the car.

Eamonn has made no secret he is flattered by the attention – at the time he questioned why everyone was so surprised about the beauty fancying him – and on Monday he posted a snap of Laura greeting him in the studio.
He captioned it, "Look Im not encouraging this but I think its fair to say lovely Laura looks pleased to see me !
Delightful woman. Just nobody share this picture with Ruth please."

Ruth took the chance to get revenge on her husbands flirty nature – by cosying up with Lauras boyfriend Paul as the couples posed for pictures on set of ITVs This Morning.
She uploaded the photo with the hilarious caption, "Two can play at the "hand on the knee pose" @lauraanderson1x !!! Great to meet you at last!"
Laura originally posted the snap with the caption, "When dreams come true. Apologies for being so cringe but honestly @ruthlangsford and @eamonnholmeswhat a little dream team.
"Thank you from the bottom of our hearts for being so lovely on @this_morning_itv What a pleasure for @paulknopsie and I Hope to see you both soon xx #howfunnyisruth#apologiesmyweehand "
Looks like Eamonn has found himself a suitable replacement on the sofa for Ruth if shes ever off work…
The post Two can play at that game: Ruth Langsford teases Eamonn Holmes after he cosies up with Love Island star appeared first on Woman Magazine.