Decoration
3 interior design tips from Shrimps fashion designer Hannah Weiland
As the catwalk and interior design worlds continue to collide, Alicia Brittle talks to London fashion label Shrimps founder Hannah Weiland about her first homeware collection
Originally launched in 2013 with one coat, Hannah Weiland may be most famed for her faux fur designs but her love of pattern, texture and colour is what made her perfect for a collaboration with Habitat for their latest designer collaboration.
1. SOFT PINKS MAKE A SPACE MORE INVITING
A palette of Shrimps signature pink and red underpins the whole collection – and Hannahs personal style: My own home has lots of colour and pattern, Hannah says. However, I would say that it is not over the top; there is still a feeling of simplicity which I think is important for creating a sense of calm.
I think a lot of people jump to visions of hot pink when you say youre going to decorate with pink but there are so many beautiful, subtle shades that work well in interiors which are calming and easy to live with, Hannah tells us.
Ive actually just repainted my whole sitting room and kitchen in Pink Ground from Farrow & Ball, it is a very neutral, fresh and calming colour – definitely not too girly.
2. MIX MATERIALS AND TEXTURES FOR STYLE AND COMFORT
To freshen up interiors while still keeping them modern and chic, Hannah thinks its all about layering. Layer in updates of colour and texture through accessories like cushions, vases and artworks, which are easy to change as and when you feel like you need a refresh.
3. ADD QUIRKY PIECES FOR EXTRA PERSONALITY
As Michel Pastoureau says, To stripe a surface serves to distinguish it, to point it out, to oppose it or associate it with another surface, & thus to classify it, to verify it, even to censor it.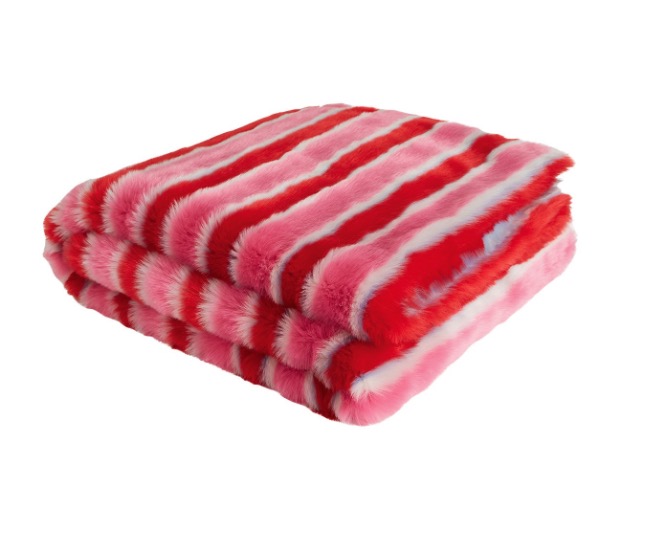 While designing her interiors collection, Hannah states, I had always imagined it being housed within quite a contemporary, minimal white space so that the colours and texture of the faux fur would really pop and make a real statement. I think you only need one of our bright cushions to really say something in your interiors. Its pretty mad but also very fun.
Shop the collection now at habitat.co.uk/shrimps