Susanna Reid appears to CONFIRM new romance after hilarious teasing from Piers Morgan
Susanna Reid may well have found a new love, four years after splitting from her ex of 16 years, Dominic Cotton.
Recently, rumours have swirled that the 47-year-old had been enjoyed a romance with Crystal Palace chairman Steve Parish.
And just yesterday, the pair were spotted cosying up together whilst watching the team play a match!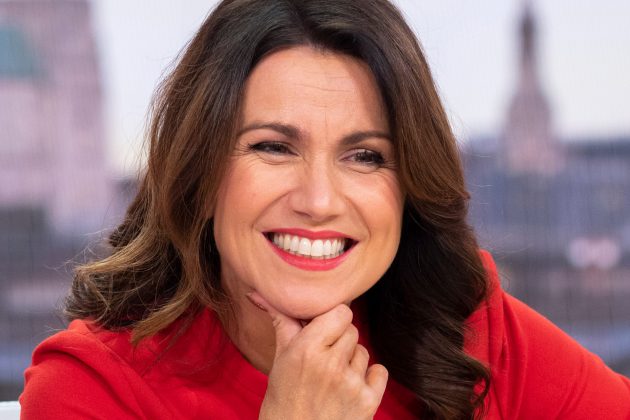 So its really no surprise that Susanna has been unable to escape some inevitable teasing from her Good Morning Britain co-star, Piers Morgan.
The duo addressed the speculation around Susannas new man after picking up on a story in a well-known news publication, live on GMB.
And of course, Piers didnt let Susanna get away with it easily – mercilessly taking the mickey out of her. In fact, he even appeared to suggest that her rumoured new man appears to be suspiciously similar to him…!
Photo by Dave Shopland/BPI/REX/Shutterstock
After a brief hiatus from the show, Piers began by joking, "So many interesting things I had to catch up on…news has been so busy!"
While Charlotte Hawkins also teased, "Well, while the cats away!", Susanna Reid giggled beside her colleagues.
Piers continued, quoting the news headline which read, "New love for TV Susanna", while she looked at the camera saying, "Here we go…!"
But he went on, saying, "No, look, I got slightly confused by this story. Because it said that you have found love with someone who is 53 years old. Now, I am 53.
"Born in 1965, I was born in 1965. Been married before and with kids, another box ticked."
And Susanna, questioning where he was going with his monologue, then appeared to confirm her new romance by joking, "Did you think Id fallen in love with you?!"
He went on, "Well, handsome, wealthy, successful, big passion for London football club… I was reading all this and thinking God, shes come out!
While Susanna joked, "Finally, Ive seen the light! Ive gone public with my passion for you!"
However, the teasing did end on quite a touching moment however, with Piers reassuring Susanna that they were all delighted to hear of her happy news. He said, "Were all very pleased for you," before joking, "There are now three of us in this marriage."
Oh dear – good luck Susanna!
The post Susanna Reid appears to CONFIRM new romance after hilarious teasing from Piers Morgan appeared first on Woman Magazine.