Women
Holocaust forum: Netanyahu urges world to unite to confront Iran
Israel's prime minister has vowed that "there will not be another Holocaust" in a speech at a forum in Jerusalem marking the 75th anniversary of the liberation of the Auschwitz death camp.
Benjamin Netanyahu also called on the international community to "join the vital effort of confronting Iran".
"We have yet to see a unified and resolute stance against the most anti-Semitic regime on the planet," he said.
Dozens of world leaders attended the event at Yad Vashem remembrance centre.
It was established to preserve the memory of the six million Jews murdered on an industrial scale by the Nazis and their accomplices during World War Two.
Almost a million Jews were gassed, starved, worked to death and even killed in medical experiments at Auschwitz, which was in Nazi-occupied Poland.
Some 75,000 Polish civilians, 15,000 Soviet prisoners of war, 25,000 Roma and Sinti, as well as Jehovah's Witnesses, homosexuals and political prisoners were also put to death there.
The Fifth World Holocaust Forum is the largest diplomatic event in Israel's history.
More than 40 dignitaries attended and laid wreaths, including Russian President Vladimir Putin, French President Emmanuel Macron, German President Frank-Walter Steinmeier, US Vice-President Mike Pence and the Prince of Wales, who is making his first official trip to the Holy Land.
In the opening address, Israeli President Reuven Rivlin thanked them "for your commitment to remembering the Shoah [Holocaust], for your commitment to the citizens of the world, to those who believe in the dignity of man".
He said their countries should not take for granted the common values that people fought for in World War Two, such as democracy and freedom, saying that Jewish people "remember because we understand that if we do not remember then history can be repeated".
"Anti-Semitism does not only stop with Jews," he warned. "Racism and anti-Semitism is a malignant disease that dismantles people and countries, and no society and no democracy is immune to that."
Prime Minister Netanyahu said the Jewish people had "learned the lessons of the Holocaust – that we cannot take threats to annihilate us lightly; to confront threats when they are small; and above all, even though we greatly appreciate the help of our friends, to defend ourselves by ourselves".
He warned that, today, Iran "openly seeks to develop nuclear weapons and annihilate the one and only Jewish state".
"Israel salutes [US President Donald] Trump and Vice-President Mike Pence for confronting the tyrants of Tehran, who subjugate their own people, who threaten the peace and security of the entire world," he added.
"I call on all governments to join efforts in confronting Iran. Israel will do whatever it must do to defend its people and the Jewish future."
Iran has repeatedly called for the eradication of the State of Israel, but says that it is not anti-Semitic. It has also denied that it wants nuclear weapons.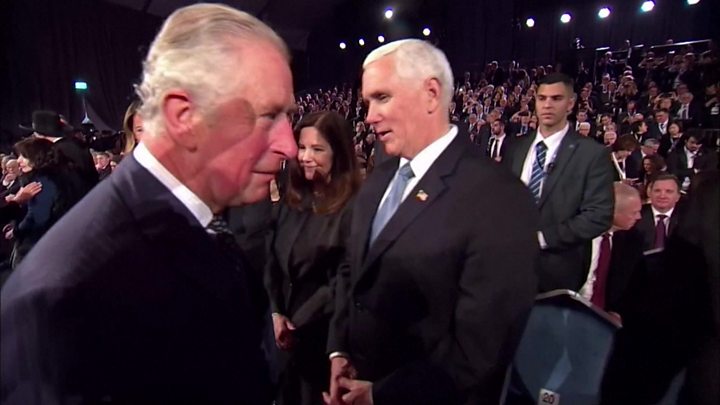 In his address, Prince Charles warned that "hatred and intolerance still lurk in the human heart" and said people "must be fearless in confronting falsehoods and resolute in resisting words and acts of violence".
France's Mr Macron said anti-Semitism was "resurfacing" and expressed total determination to fight against it.
But he also stressed that "no-one has the right to invoke [those killed by the Nazis] to justify division or contemporary hatred".
Vladimir Putin meanwhile proposed a summit between the leaders of Russia, China, the US, France and the UK this year to discuss ways to "protectRead More – Source