Coronavirus: Rapid spread raises fears of global pandemic
Fears are growing that the coronavirus outbreak could become a pandemic as new cases are reported around the world.
Most infections are in China but other countries including South Korea, Italy and Iran are battling to contain the virus, which causes the respiratory disease Covid-19.
A pandemic is declared when an infectious disease threatens different parts of the world simultaneously.
No vaccine is available so far to prevent the new coronavirus.
About 77,000 people in China, where the virus emerged last year, have been infected and nearly 2,600 have died.
More than 1,200 cases have been confirmed in 26 other countries and there have been more than 20 deaths. Italy reported its fourth death on Monday.
The proportion of infected patients dying from Covid-19 appears to be between 1% and 2%, although the World Health Organization (WHO) cautions that the mortality rate is not known yet.
On Monday Iraq, Afghanistan, Kuwait and Bahrain reported their first cases, all involving people who had come from Iran.
WHO chief Tedros Adhanom Ghebreyesus had warned that the window of opportunity to contain the virus was "narrowing".
Paul Hunter, professor of health protection at the University of East Anglia in the UK, echoed his fears, saying the spike in cases outside China was "extremely concerning".
"The tipping point after which our ability to prevent a global pandemic seems a lot closer after the past 24 hours," he said on Monday.
WHO spokeswoman Margaret Harris told the BBC that the situation was not being seen as a pandemic at the moment because countries were managing to prevent the virus spreading too far.
"If countries took no measures at all we would have seen way, way, way more cases," she said. "That's what we mean by containment."
What are the symptoms?
The main signs of infection are fever (high temperature) and a cough as well as shortness of breath and breathing difficulties.
What should I do?
Frequent handwashing with soap or gel, avoiding close contact with people who are ill and not touching your eyes, nose and mouth with unwashed hands can help cut the risk of infection.
Catching coughs and sneezes in a tissue, binning it and washing your hands can minimise the risk of spreading disease.
World edges closer to coronavirus pandemic
Analysis by Fergus Walsh, medical correspondent
The combined situation in South Korea, Iran and Italy points to the early stages of pandemic. This means a global outbreak, with the coronavirus spreading in the community in multiple parts of the world.
In each of these countries we are seeing spread of the virus with no connection to China. The lockdown efforts in Italy mirror those that have happened in China.
The situation in Iran is especially worrying, because the health authorities have reportedly said the virus has spread to multiple cities, and it appears the first case in Lebanon is linked to a traveller from Iran.
If we have a pandemic, it will still be important to limit the speed of spread of the virus.
If countries could hold it somewhat at bay until the end of winter, there is a hope that warmer temperatures will reduce the time the virus can survive in the air, as we see with seasonal flu. But this may not be certain.
What are the worst-affected countries?
South Korea – which has the largest number of confirmed cases outside China – reported another 231 infections on Monday taking the total there to more than 830. Eight people have died.
Around 7,700 troops have been quarantined after 11 military members were infected.
But the biggest virus clusters have been linked to a hospital and a religious group near the south-eastern city of Daegu.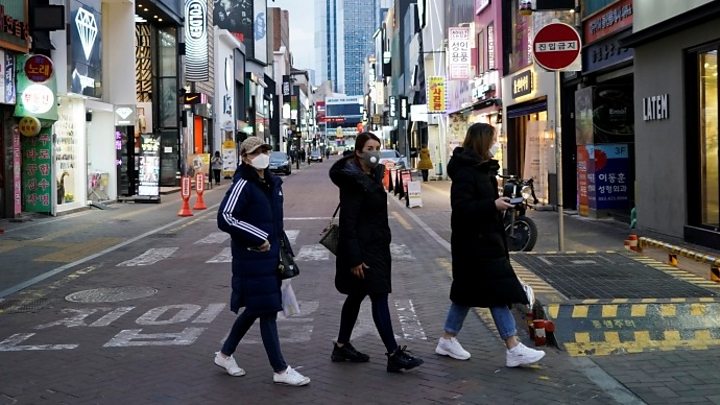 Some South Korean airlines have suspended flights to Daegu, which has a population of around 2.5m.
Korean Air said the suspension would last until 27 March.
Italy has the largest number of cases in Europe, 165, and announced a series of drastic measures over the weekend to try to contain the outbreak.
In the Read More – Source