Women
Joe Biden: I think George Floyd will change the world
Democratic US presidential candidate Joe Biden has said the late George Floyd will "change the world."
Following a private meeting with Mr Floyd's family in Houston, Texas, to offer his sympathies, Mr Biden told CBS news his death was "one of the great inflection points in American history".
The killing of African American George Floyd at the hands of a white officer has fuelled global protests.
A private funeral service will be held in Houston later on Tuesday.
Mr Biden has sharply criticised President Donald Trump, who is standing for re-election as the Republican candidate on 3 November, accusing him at the weekend of making "despicable" speculative remarks about Mr Floyd.
The Democratic politician was himself recently accused of taking black American votes for granted when he said African Americans "ain't black" if they even considered voting for Mr Trump.
What did Biden say about Floyd's family?
"They're an incredible family, his little daughter was there, the one who said 'daddy's going to change the world', and I think her daddy is going to change the world," Mr Biden told CBS anchor Norah O'Donnell.
"I think what happened here is one of the great inflection points in American history, for real, in terms of civil liberties, civil rights and just treating people with dignity."
Floyd family spokesman Benjamin Crump, who tweeted a photo of the meeting said Mr Floyd's relatives welcomed Mr Biden's comments.
"That compassion meant the world to this grieving family," he added.
Aides to the former vice-president said he would also record a video message for Tuesday's service.
Mourners in Houston, Texas, where Mr Floyd lived before moving to Minneapolis, formed long lines to view his body, publicly on display for six hours at The Fountain of Praise church.
Memorial services have already been held in Minneapolis and North Carolina, where Mr Floyd was born.
Every candidate casts their forthcoming election as a pivotal moment in history. Sometimes it is; most of the time it isn't. Joe Biden has been saying from the start that November will be the opportunity for Americans to define what kind of nation they want to be.
Many have shrugged that off as standard rhetoric from a veteran politician. Now, however, Biden's case may be building.
Polls suggest American views on race and law enforcement have shifted dramatically in just a few weeks and that the issue, usually a lower priority, is now at the top of voters' minds.
Six years ago, only 33% of Americans said police were more likely to use excessive force against blacks. Now that number is 57% – including 49% of white respondents.
Biden, given that black voters were the backbone of his Democratic primary support, could be well positioned to capitalise. While he has a penchant for verbal stumbles, his empathy is one of his strengths – on display during his visit to George Floyd's family.
Elections can hinge on unpredictable events and movements, with successful candidates spotting the wave and riding it to victory.
While five months is an eternity in American politics, Biden may have found his moment.
What is the latest on the George Floyd case?
Derek Chauvin, the Minneapolis ex-policeman accused of killing Mr Floyd, made his first court appearance on Monday, where his bail was set at $1.25m (£1m).
Mr Chauvin – who kept his knee on Mr Floyd's neck for nearly nine minutes – faces charges of second-degree murder and manslaughter. Three other arresting officers are charged with aiding and abetting murder.
Prosecutors cited the "severity of the charges" and public outrage as the reason for upping his bail from $1m.
His next court appearance is set for 29 June.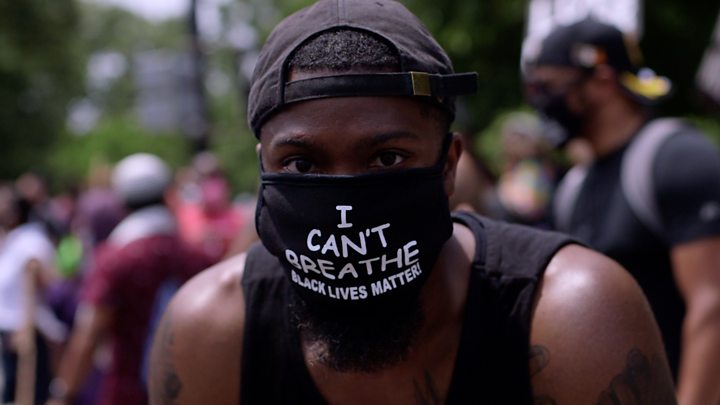 Anti-racism protests started by Mr Floyd's death are now entering their third weekRead More – Source