Sports
Coronavirus: Football and rugby training resumes as rules relax
People of all ages are able to take part in organised outdoor contact sports as a number of further lockdown restrictions are lifted.
Amateur rugby and football clubs are among those which can resume training in groups of no more than 15 people.
The relaxation of rules also allows bingo halls, amusement arcades, casinos, funfairs and snooker halls to reopen and driving lessons to resume.
Outdoor live events such as concerts and comedy shows can also begin again.
However, there must be strict observation of guidelines on physical distancing, enhanced hygiene and restricted audience numbers.
All of the activities have been in lockdown since coronavirus measures were introduced in March.
Sports teams reunite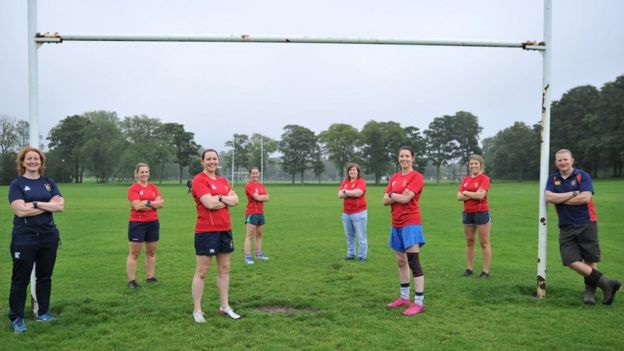 Broughton Rugby Club's women's team are among those who are "so excited" to be reunited and resume serious training.
Captain Lauren Park told BBC Radio's Good Morning Scotland: "It's been a long time coming…. it's going to be the first time since March that we've been able to get together in such a large group and have some competitive touch rugby on the go."
She said they would train in two bubbles of 15 people, on separate areas of the pitch. And as well as hand sanitizing "before during and after" training, the rugby ball will also be thoroughly cleaned.
"It's been a long five months for everyone involved" in Thorn Athletic in Johnstone, according to its chairman Mark McGee.
The team have kept in touch on WhatsApp, and taken part in 5k challenges and Zoom workouts, but they are looking forward to getting back to a routine which benefits their physical and mental health.
And as training almost gets back to normal, and with friendly games due to begin on 11 September, he said: "Everyone's absolutely buzzing".
Live events – with restrictions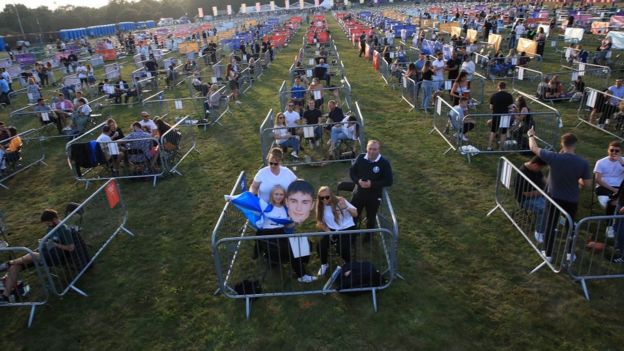 Promoter Oli Norman is disappointed that more restrictions have not been lifted on live events in Scotland.
He said guidelines published on Sunday afternoon stated that capacity at outdoor events would be limited to 200 people "which may sound like a lot but for a commercial outdoor event is northing".
"So unfortunately until they do a U-turn on a ridiculous restriction, they've killed an entire industry at a point when an entire industry is on its knees," he added.
He said it put under threat plans to hold GlasGlow – an annual light show in the Botanic Gardens – which attracts about 2,000 people day at the end on October.
These kinds of events are naturally socially-distanced, in acres of parkland, and require authorisation by the council, he added.
"It's deeply illogical what is currently happening so thousands of people can currently go into a zoo or a safari park, an outdoor market – indeed a beer garden I was in the other week had 4-500 people drinking alcohol," Mr Norman told Radio Scotland.
"All these events that are hugely needed as we go into the dark months face real risk of cancellation right now unless the government comes to its senses and does something far more pragmatic."
The Scottish government has been approached for a comment. It has previously said its decision-making on coronavirus restrictions was guided by public health concerns.
'Music industry can come back'
Many musicians and artists who have faced a summer without gigs and festivals will now be looking to restart live performances
Caroline Sewel, regional organiser for the Musicians Union in Scotland and Northern Ireland, said: "Musicians are creatives and if any industry has the ability to come back then the music industry can, and I'm sure will."
However, she warned that social distancing and reduced capacity for live gigs could mean they are not financially viable for some venues, promoters and musicians.
Glasgow based musician Kapil Seshasayee, like many artists, had to switch to building a fan base online during the pandemic.
He said: "The thing I like most about being forced to do that is that geography becomes irrelevant and you can set up a zoom call with anyone.
"There is an interesting culture of collaboration that is emerging because of Covid."
Driving lessons in masks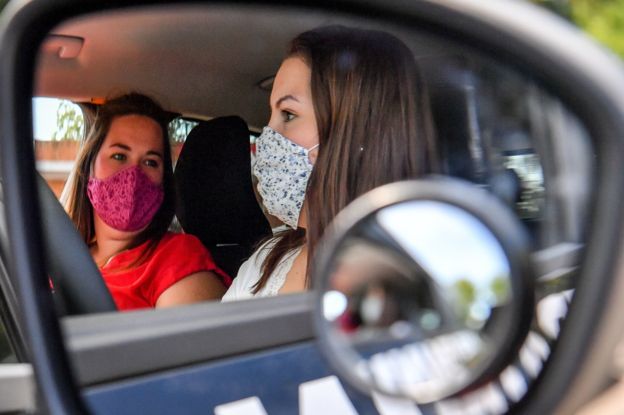 Driving instructor Tony Clarke was due to take his first lesson in about five months at 10:00.
Speaking ahead of returning to work, he said he had "mixed emotions" but he wanted to get back to the pupils who had been left behind, to get them through their test.
That will mean additional cleaning of the car between lessons, masks worn by student and instructor, and windows down throughout each lesson.
The Clydebank-based instructor said he was fully booked and there were a lot of his pupils "itching to sit a driving test".
Some of them might be a bit rusty after five months away from the wheel "but I won't be long in getting them back up to scratch," he said.
Further restrictions are due to be lifted next Monday (31 August). They include the reopening of gyms, swimming pools and indoor sports courts.
However, people over the age of 12 will not be able to take part in contact sports indoors until 14 September.